Your Podiatry Health & Safety in Lakewood, CA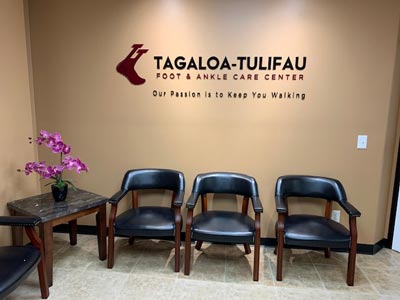 At Tagaloa-Tulifau Foot & Ankle Center, your health is our top priority! As we're all adjusting to a new normal, we've been working on ways to treat your foot and ankle issues with an enhanced focus on your safety and health. When we see you in our office, we want you to know that we've taken multiple steps to ensure your well-being and comfort.
When you come in for your next appointment, you will notice the following new procedures:
Temperature checks for every person entering the office
Sanitizing of chairs between each patient
Masking is required for all staff & patients
Hand sanitizers are placed throughout the office for everyone's use
Social distancing is being enforced throughout the office
Informing patients over the phone to reschedule their appointments if they are sick
We feel these increased safety measures will further protect the health of our patients and staff. If you have any questions, please call us at 562-925-3055. We look forward to seeing you soon!
As one of the premier podiatry practices in Lakewood, CA, our podiatrist and team at Tagaloa-Tulifau Foot & Ankle Center also provide 5-star podiatry care to patients from Long Beach, Cerritos & Bellflower, CA & the surrounding areas.